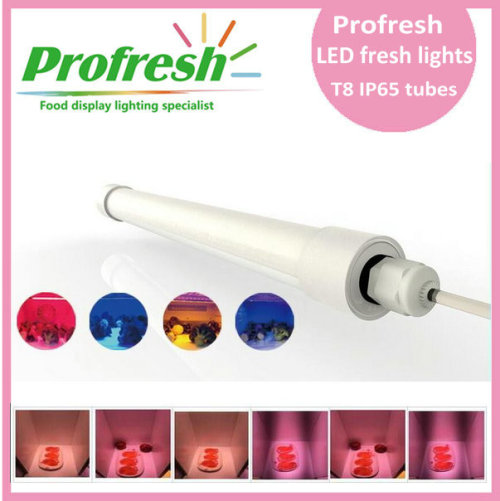 PROFRESH NEW FRESH LIGHT SYSTEM FOR FOOD APPLICATION
Model

KPT-Profresh
MOQ

1 piece
Description

Product Description
1. Product Photo and Size(Unit: MM)
2. Controller Photo/Size/Specifications:
Controller Board Specification
Input Parameter
Input voltage range
48Vdc
Normal voltage range
48Vdc
Frequency range
50Hz
Max input AC current
Max
Efficiency(full load)
87%Min/48Vdc
Output Parameter
Output Electrical Characteristics Overview
Led Type
Output current
Regulation
Output voltage range
No load out voltage
Red
190 mA
±5%
15V-30V
47V±2V
Green
Blue
White
DC Output Ripple & Noise.
Output current/ Output voltage
Ripple & Noise(Max)
4*190mA--/--21V
≤2.3V
DC Output Short Circuit Parotection
Output current/ Output voltage
Comments
4*190mA--/-- 21V
Hiccup Protection
Ambient Temperature
Working Temperature
(-10℃ to +40℃)
Storage Temperature
(-20℃ to +70℃)
Ambient Humidity
Working Humidity
Form10% to 90% relative humidity
Storage Humidity
Form5% to 95% relative humidity
Antistatic
Electrostatic Interference Degree
GB 17626.2-1998
3. Product Features
1) EnergySaving: Adopt 5050 four in one composite patent structure light source, energy saving 80%
than incandescent.
2) Environmental Protection: doesn't contain mercury, lead and hazardous substances, no pollution to environment.
3) Retain Freshness:Use the wavelength plants can absorb easily, accelerate the fruits and vegetables the second time photosynthesis, maintain the nutritional ingredient; with UV light, can sterilize in vegetables,extend the food expiration date.
4) Second Time Photosynthesis: Alternate(Illumination time and dark time) to illuminate the food, more efficiency than continuous lighting type, can increase the vitamin(C) and other nutritional ingredient under it, then reach to retain freshness effect.
5) Intensity Change: Simulate the sunlight intensity change when the time moves to light up for the fruits and vegetable
6) Illumination: Adopt red, green and blue to mix up to get the best color for food.
7) Lifespan: More than 50,000 hours.
8) Input Voltage: AC100-240V, easy installation.
9) Adopt SMD LED chip, high brightness, high luminous efficiency, high CRI.
10) Direct optical illumination point than traditional lamps have higher light-use efficiency.
11)Can work under rather low temperature, save much electricity.
12)To achieve the desired effect of non-glare lighting surface according to the different food, higher color rendering and food color looks more reality. It's better for customer's to select the food.
4. Application
Used for fresh food lighting in the supermarket, freezer and refrigerators and other area, and fruits and vegetables transportation area.
LED Red(660nm) LED Green(520nm) LED Blue(470nm) LED UV(365nm/185nm)
Technical Parameters:
1. Basic Technical Parameter
Product Model
L600
L1200
Rated Wattage
9W
18W
Consume Wattage
9±1W
18±1.5W
Input Voltage
85-265V(Constant current)
LED Chip Quantity
42
84
LED Light Source
SMD5050(R/G/B/UV)
Light Efficiency
---(Frosted or Transparent)
Luminous Flux
---
---
Luminaire Efficiency
>85%
Illumination Uniformity
>0.8
Color Temperature
R/G/B/UV
Color Rendering Index
---
Beam Angle
120 º
Grade of Protection
IP65
Operation Ambient Temperature
-45℃~50℃
Lamp Operating Temperature
Ambient Temperature
The radiator surface of the lamp body
LED pins
27℃
41℃
47℃
Certificate
CE、RoHS
Lifespan
50000H
Dimensions
See the above the specified on the product dimension drawing
Weight
0.2kg
0.4kg
Product Reliability Test
| | | | |
| --- | --- | --- | --- |
| No. | Item | Test Condition | Test Standard |
| 1 | Temperature rise test | Ambient Temperature 25℃, the lamp surface temperature below 65℃, LED temperature below 75℃. | Ambient Temperature 25℃, the lamp surface temperature below 65℃, LED temperature below 75℃. |
| 2 | High temperature and volt test | Ambient temperature 60℃, input 1.1 times of rated voltage, light for 24 hours. | The lamp can work properly after the test. |
| 3 | Low temperature and volt test | Ambient temperature -15℃, input 0.9 times of rated voltage, light for 24 hours. | The lamp can work properly after the test. |
| 4 | Vibration test | Vibration speed is set to 300r/min, the amplitude is set to 2.54cm, six surface vibration test on the six surface of packed products. | The problem can't be occurred on the lamps, parts detached, structure damaged, the lamp does not work, etc. |
| 5 | Voltage surge test at indoor temperature | Ambient temperature 25℃, light 30s and switch off 30s, circulate 10,000 times. | The problem can't be occurred on the lamps, leakage, don't work these electrical anomalies. |
| 6 | Lifespan test | Ambient temperature 25 ° C, lit test, the first three months every 10 days, test optical parameters, after three months every a month test the optical parameters, 70% of the initial luminous flux is the life of the product, light off is the absolute life. | Luminous flux is 90% of the initial luminous flux within 3000 hours, luminous flux should be higher than 70% of the initial luminous flux within 30,000 hours. |
Structure Diagram
1)Structure Diagram
2)LED Chip Structure(photo 2(a))and circuit(photo 2(b))diagram
5050RGBUV 5050RGBW
Remark:151:W/UV 153:B 155:G 157:R
LED Lamp Connection Way
Notice
1. All of the above test data are gained under the condition of specified range of input voltage and rated output, working environment temperature 25℃, humidity less than 85%, beam angle 60 degrees.
2. Notice:Operation pls refer to the instruction strictly.
3. Check the input voltage and current if match the lamp requirements, pls don't disassemble product without authorized.
4. If the lamp can not work properly due to product quality defects, 3 years warranty to repair or replace.